Nominations for 2018 Pushcart Prize
We've selected our nominees for the 2018 Pushcart prize, published by Pushcart Press. Our nominees are: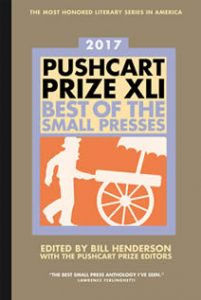 The Only Hope of the Jews by Paul Beckman
Walker Evans Saves the Bridge by Benjamin Goluboff
Smoking on the Back Steps of Bobst Library, NYU by Melissa Goode
All Right, I'll Write it Down by Julie Oldham
Between the Hours of One and Six by Heidi Stuber
Haruspex by Eric Williams
Congratulations to our nominees, and good luck!
Visit Pushcart Press to find out more about the Pushcart Prize and the nomination process.