'Of a Feather' by Michael Daley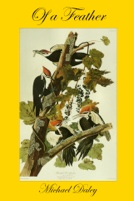 I was pleased to receive a review copy of Michael Daley's new collection, Of a Feather, published by Empty Bowl Press, a division of Pleasure Boat Studio.
Reading through the poems here, I was reminded of why I like Michael's poetry so much, it's because he has such a way of bringing me into the poem. His use of imagery and language puts me there. He writes the particulars, as Susan Woolridge would say, and in so doing allows me to experience the emotions and feelings I associate with those images.
This collection not only honors nature, but in a way it mimics nature, with a gentle, relaxed style and tone. In fact, I made it a morning ritual to read some of the poetry here, then go out for a walk, and it was a very relaxing and meditative thing for me; I felt connected to nature and to the poet.
Of a Feather is a satisfying collection of poetry that I highly recommend. Go grab a copy guys! And of course you can get a taste of Michael's beautiful work right here at Unbroken.