Two Towns Over by Darren C. Demaree
Review by Sam Frost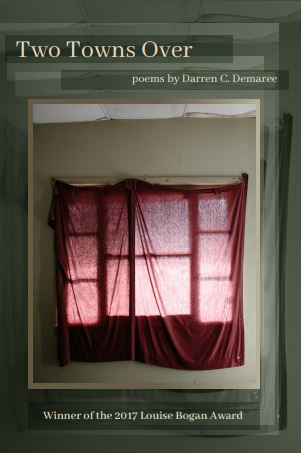 Darren C. Demaree's Two Towns Over was chosen by Campbell McGrath as the winner of the Louis Bogan Award from Trio House Press and will be launched at AWP this year.
Reading these poems left me both hollow and whole, an incredible experience. The collection creates the feeling of reading one's diary and at the same time reading the history of a town. Demaree speaks so specifically about Ohio and the experience of drug addiction that it's easy to lose yourself in the words.
The language is sharp and doesn't waste any time. Every word is important and packs a punch.
The first ten poems are titled "Sweet Wolf # (1, 2, 4, 7, 12, 13, 22, 24, 25, 29)" and "Sweet Wolf #1" begins with immediate imagery, giving drugs a symbol before they are even mentioned. Then, much like addiction, each poem escalates, and by "Sweet Wolf 29" Demaree shows us what addiction can do to a family.
The last twenty poems are titled "Ode to the Corner of the Drug House Down the Gravel Road Off the Two-Lane Highway # (1-60)". The Odes fluctuate from lyrical to straight forward, creating a pulse within the lines. The repetition of the title forces addiction and its horrors to become visceral.
Reading these poems felt like walking. Like I was traveling through these towns, seeing snapshots of the life there, one fading into the next, and being changed by them.
This is important work written about an important subject in a beautiful way.
Thanks to the author for the opportunity to read and review Two Towns Over, and congratulations on the much deserved award.
You can find more about the author on his website, and also check out more of his writing in the latest issue of Unbroken.