Nominations for 2018 Best Small Fictions
Here's our nominees for the 2018 Best Small Fictions, by Braddock Avenue Books: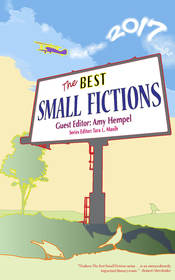 Story Time at the Rip Tide Inn by Ron Gibson, Jr.
Contrapuntal by J.A. Pak
Po-dunk by Laura Page
The Family Myths by Nicholas Cook
On Pets and Sharp Objects by Thuy Dinh
Congratulations to our nominees, and good luck!
Winners will be notified in the spring. If you'd like to find out more about the Best Small Fictions anthology, visit Braddock Avenue Books.